Andres Larin

3365 view(s)
Ikarus S is an extremely light kite thanks to its innovative materials and its special assembly process.
It flies well in very low wind and it's far from rear or front stalling.
The low weight of this kite will show its benefits also in medium strength wind, in particular in retaking flight after a kite loop, or the neutral "fluttering" attitude while wave surfing.
Less inertia: even in a straight and simple change of direction, the kite will react immediately, and if in rotation, the movement can be easily interrupted once the command is given.
This characteristic can be easily understood by comparing the turning of a big heavy boat and the fast turn of a small speedboat: the same applies to aerodynamics.
Ikarus S is a short bridle kite, making its line set-up, even under sustained strong wind, very easy to handle.
Eleven attachment points along the leading edge support the Ikarus S short bridles, this allows the kite to be used in "over" conditions, or kite looping, with no canopy deformation besides the one induced by the overload
Colours Available:
- Black + Blue
- Black + Green
- Green
- Red
Sizes Available:
5, 6.5, 7.5, 9, 11, 14 Meters
Image: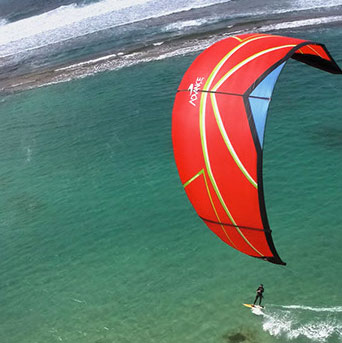 Catalog: