Andres Larin

3488 view(s)
The 2016 Fury is built for those who go big and ride hard.
But most of all it is built to provide you with everything you need to have mind blowing sessions every time you go out to play.
The Fury is built with maximum performance in mind. This fantastic piece of engineering will maximise your jumps, provide you with massive airtime, have you screaming upwind and makes you ride at teeth grinding speeds. All of this insane performance is delivered in an easy, predictable and reliable way so that you will always feel in total control.
The extremely rigid 5-strut frame combined with its high Aspect Ratio and high performance profile, make it the perfect tool for boosting big air.
If you want to look good on the water, get the right equipment and treat yourself to the Fury!
Sizes + recommended bar:
Fury 6m2 – Navigator Small
Fury 8m2 – Navigator Small
Fury 10m2 – Navigator Small
Fury 13m2 – Navigator Small
Fury 15m2 – Navigator Large
Fury 17m2 – Navigator Large
Fury colour combinations:
Yellow (6, 8, 10, 13m)
Red (6, 8, 10, 13m)
Blue – yellow (15 & 17m light versions only)
Package:
The Fury is delivered 'kite only' or complete, containing:
Fury kite
Fury backpack
Repair kit
Peter Lynn 4-line LEI Instruction manual
Navigator SL (complete version only)
350/350daN Dyneema® flying lines (complete version only)
Safety leash (complete version only)
Image: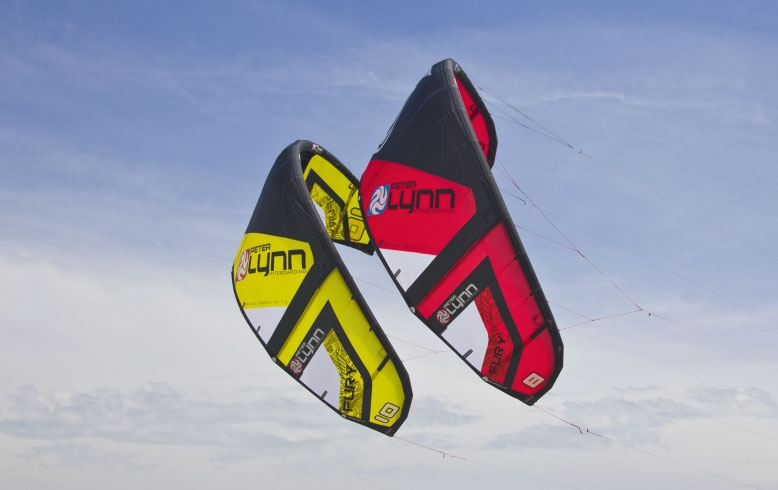 Catalog: