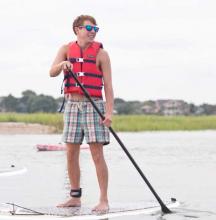 I have never done Stand Up Paddle and when I realized I booked it on a morning that the wind decided to kick up and the rip currents came in early, I was concerned that this would be a huge waste of money and no fun!! My experience could not have been any better! First of all, the instructor Connor was so very comforting, friendly and non-judgmental.
He saw my concern and worked with me to learn what I could since it was my first time on a board with no leash and turbulent waves. Then he called to his co-worker in the bay and asked if I could come over. So I had about 30 minutes of preliminary instruction which was excellent and then drove to the bay. I had 1 1/2 hrs with the second instructor who could not have been sweeter.
My time was not cut and I received a full session. The instruction was so perfect I stood up immediately and the rest was just wonderful ! The most impressive part of this entire journey was how much attention to detail I received from both instructors. This company does their homework before hiring.
I guarantee you will have an amazing experience with people you would want to call "friend" after it's all done. Also worth mentioning the owner himself Mitch who is so nice emailed me back right away to answer my questions and pricing is very reasonable for their adventures. A quality time guaranteed!!