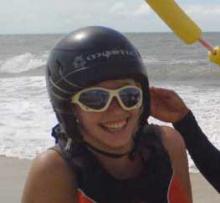 Nick and his team are awesome! They set me up with lessons upon my arrival to LA with less than a day's notice. They were friendly and knowledgeable about where and when was best to go. As I progressed, they let me try various sized boards and made recommendations, which proved to be very helpful. Also, their instructor to student ratio made it feel like a personal lesson even though we were a large group.
If you havekids, definitely take lessons from this school. I observed them with kids in my class and they were awesome, very encouraging and attentive. After several failed attempts at lessons in Santa Monica and Venice with other surf schools that were non-responsive, no shows, and a variety of other scams, Santa Monica Surf School was very professional and responsive. I highly recommend taking lessons from them!
 I'm already looking forward to going back for another session!